Higher rent for furnished apartment: A review of available properties in Boston, MA indicates a very small difference between rents of furnished and unfurnished apartments. Per square foot rent per month for furnished apartment is approximately $3.02 versus $2.80 for unfurnished apartment . Based on property listings in Boston's most sought-after neighborhoods on different websites, the difference in property rent between furnished and unfurnished houses comes around $238 per month on average basis. The question is, is it worth investing between $4,000 and 5,000 to improve rent by a very small margin?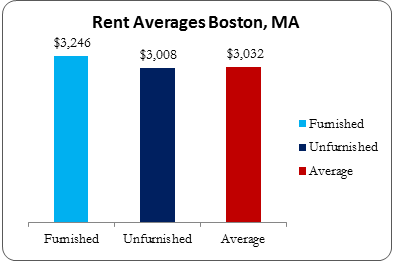 Source: Average rent 2+ bedrooms listing on Rent.com, ApartmentGuide.com and Sublet.com
Making the property more marketable: The other benefit of furnishing a property is that it makes a home much more attractive to potential renters who don't have their own furniture. Again you should ask yourself, how many tenants do not own furniture of their own? Probability of these potential tenants being students, first time renters and professionals looking for short term lease or vocational home is very high. Unless, you are aiming to attract these renters, furnishing the house will not increase marketability of your house in fact it could reduce it further. How many renters will like your taste and decor? What will tenants do with their own furniture?
This is one of the reasons behind higher occupancy rate of long-term unfurnished apartments – 95.6% as reported by Property Management Insider – while furnished apartments' occupancy remain around 90% . This translates into slightly slower uptake of furnished apartments, or lost opportunity to earn rent on regular basis.
In short, furnishing the apartment does not mean significant increase in rent unless you decide to offer short term lease which offers you the opportunity to charge premium from renters looking for ready to move in place and thus are willing to pay higher rent. Short-term rentals could also mean extended vacant time for the property thus owner loses the opportunity to earn rent each month.
Estimated from properties listed on rent.com, sublet.com and apartment guide
http://www.propertymanagementinsider.com/years-bump-apartment-occupancy-come-handful-markets
Yahoo article "First Person: Tips for Renting Out a Furnished Apartment" by Angela Colley
We are pledged to the letter and spirit of U.S. policy for the achievement of equal housing opportunity throughout the Nation. See Equal Housing Opportunity Statement for more information.